In this guide, we take a closer look at all the different Charters Towers camping and caravan parks so you can choose the one that's right for you.  We look at the location of each of them, what facilities they have on site and whether or not they offer any accommodation other than camping.
So let's get started and find you one of the best camping and caravan parks Charters Towers has on offer.
If you like to camp in Queensland, join our Queensland Camping FB group where you can talk with other campers, ask for advice and share your own camping experiences.
This post may contain compensated links.  Please refer to my disclaimer here for more information.
Charters Towers Camping

Map
The map below shows you the location of the campsites and caravan parks in Charters Towers that are covered in this guide.  Zoom in and out for a better view!
Keep reading below for full details of all these Charters Towers camping grounds.
Campsites and

Caravan Parks – Charters Towers
In no particular order, below we review all the different options for camping near Charters Towers.
The Charters Towers Tourist Park is located south of the town, off the main highway in Mosman Park, which is a quiet area.  It's around 2.5 km from the centre of town where you'll find plenty of shops and many attractions.  For those who enjoy walking; it's just a 30 minute walk from the park to the top of the popular Towers Hill.
All sites at the Charters Towers Tourist Park are powered, with a range of different sites options available.  There are lovely shady or sunny spots, as well as the choice of grassy sites or sites with a concrete slab.  In addition, there are ensuites sites so you can have your own private toilet and shower, as well as the option to have a drive thru site for those larger rigs.
In addition to their campsites, Charters Towers Tourist Park also offers a great range of cabins for all kinds of travellers.  All cabins are self contained and feature air conditioning and full size fridges.  They have cabins suitable for one or two people, right up to large cabins which can accommodate families.
At this tourist park, you'll find everything you could possibly need for a comfortable stay.  There is a spotless toilet and shower block (even comes with freshly clean bath mats), well equipped camp kitchen with plenty of seating, guest laundry, and even a lovely swimming pool complete with a BBQ area.  At certain times of the year, there are also meals available as well as entertainment.
Whether you're after a spacious site for your big rig, a grassy spot to pitch a tent, or even a self contained cabin, the Charters Towers Tourist Park has something for everyone.  This is an immaculate campground run by a lovely couple and comes with all the amenities you need for a comfortable stay.  It's also pet friendly with your dog welcome to stay at your campsite, or even on the verandah of the cabins.  
Sites start at $31.50 a night and ensuite suite sites start at $39.60 per night.  If you're a G'Day member, you'll also receive a discount.
See a map of the Charters Towers Tourist Park here.  You can also read our full detailed review of the park here and see our YouTube video on the park here.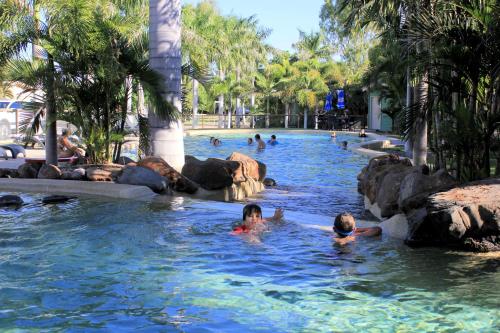 If you're looking for somewhere with plenty of activities for the kids, then the Big4 Charters Towers tourist park is the perfect place for you.  This holiday park is located northeast of the town, off the Gregory Highway, and is a short 5 minute drive to the centre of town.  It's also just 1 km from the famous Tors Drive In.
For the campers, there are some great powered or unpowered sites available, including grassy sites and slab sites.  There is also plenty of great cabins to choose from too.  There are studio cabins suitable for up to three people, right up to large two bedroom family chalets able to accommodate up to eight people.  All cabins come with air conditioning and cooking facilities.
There is heaps to keep the kids busy here too.  You've got a giant jumping pillow, a small playground and a beautiful 21 metre lagoon style swimming pool.  There is a great camp kitchen for the campers, complete with electric BBQs, microwave, kettle and toaster, and toilet and shower block. Other amenities on site include a guest laundry, lending library, dump point and a cafe.
Another great thing about staying at the Big4 is it's pet friendly with dogs welcome on campsites and cabins.
Prices start at $30 for an unpowered site and $40 for a powered site. Cabins start at $135 per night.  If you're a Big4 member, you'll receive a discount.
See a map of the Big4 park here.  
As you're driving into Charters Towers from the north, along the Gregory Highway, you'll pass the Dalrymple Tourist Van Park.  It's located about a 5 minute drive or 3 km from the centre of town.  You've got the golf course just 160 metres to the north and Centenary Park a 10 minute walk away.
The park is spread out over six acres, which means plenty of spacious campsites to choose from.  There are grassy sites, drive through sites and even a couple of ensuite sites for those who prefer to have their own private bathroom while camping.
In addition to campsites, there are also one and two bedroom cabins which are fully self contained.  All cabins come with air conditioning, private bathrooms and full cooking facilities.  Cabins can accommodate between four to six people.
In terms of facilities, there is plenty on offer for everyone.  For families, there is a lovely saltwater pool and a jumping pillow.  There is also a sauna, covered BBQ area, dump point and a small kiosk on site.  If you visit during the winter season, you'll also find a range of social events you can join, including Devonshire teas and meals around the campfire.
Other facilities on site include a large modern camp kitchen, multiple BBQ areas and two large amenities blocks, each complete with a guest laundry.
Darymple is also a pet friendly tourist park, with dogs welcome on campsites and cabins.
Prices start at $29 for an unpowered site and $39 for a powered site. Flash your senior's card for a discount.
See a map of the Dalrymple Van Park here.  
Bivouac Junction Holiday Park
If you're looking for more of a bush setting while visiting Charters Towers, then Bivouac Junction may well be what you're after.  Located on the banks of the Burdekin River, yet just a 20 minute drive into the centre of town,  Bivouac Junction provides you with a peaceful bush camp setting while still being handy to all the main attractions and conveniences of Charters Towers.
Campsites are lovely and spacious here – you might even be lucky enough to score a picturesque riverfront site.  There is the choice of either powered or unpowered sites and you're also able to have a campfire right by your camp set up.
Prices start at $20 for an unpowered site and $25 for a powered site.   These rates are for four people, with additional people being $5 each.  The best part is there is so much room here that there is no need to book – just turn up and you will be more than welcome.  Bring your dog too, as Bivouac Junction is pet friendly.
In addition to spacious campsites, Bivouac Junction also has a couple of lovely riverside cabins.  These cabins sleep up to four people coming with a queen bed and set of bunk beds – you will need to bring your own linen though.  The cabins also include a TV, fridge and microwave and are $80 per night.
Facilities on site include hot showers, toilets and two newly built bush kitchens, which feature two professionally stone pitched fireplaces for cooking.  Each kitchen also has a TV and gas BBQs.  Other activities on the property include fishing, kayaking and there is also a spacious swimming pool too.
Burdekin Duck Roadhouse and Campground
Behind the Burdekin Duck Roadhouse is a small campground which is great for those on a tight budget or when all the tourist parks in Charters Towers are full.  This campground is just a 15 minute drive out of town, along the Flinders Highway.
There are 16 powered and 35 unpowered sites, as well as two cabins and two caravans where guests can stay. Prices start at $15 for an unpowered site and $25 for a powered site. 
Onsite is an outdoor communal kitchen and eating area, which is set around a fireplace.  Other amenities include toilets and hot showers.  The roadhouse is also well known for serving up fantastic hot meals.
________________________________________________________________________
Hopefully, you found this guide on Charters Towers camping helpful – you can read our full review on camping at the Charters Towers Tourist Park here.  You might also be interested in our guide to pet friendly campsites in Townsville here or our full review on the pet friendly Rollingstone Beachfront campsite here.  You can also find a great guide on things to do in Charters Towers here.