If you've ever dreamt of camping on a tropical island in the Southern Great Barrier Reef – then Great Keppel Island may be just what you're looking for.  Great Keppel Island is one of several little stunning islands located just a short ferry ride off the Capricorn Coast. Camping is offered at the Holiday Village with the option to bring your own gear or stay in one of their permanent setups.  Also, Svendsen's have safari tents too.  You can read more about the camping options on Great Keppel Island here.
Once you've decided on your campground – you probably want to know what things to do on Great Keppel Island.  Home to 17 pristine white sandy beaches and full of walking tracks there are plenty of Great Keppel Island activities to keep you busy.  There are loads of watersports like snorkelling, diving, kayaking and SUPing, as well as bushwalking and for those who prefer to take it easy, you can simply spending your days relaxing on the beach.
If you're planning your Great Keppel Island camping trip and wondering exactly what there is to do – then this guide is perfect for you.  In this guide, we cover exactly what to do on Great Keppel Island – no matter what sort of camping trip you're after.  
If you like to camp in Queensland, join our Queensland Camping FB group where you can talk with other campers, ask for advice and share your own camping experiences.
This post may contain compensated links.  Please refer to my disclaimer here for more information.
Best

Things to do on Great Keppel Island
Below is a list of some of the best Great Keppel Island things to do.  To help with your planning, we've also included information about location and prices where applicable (these were correct at publishing).
Snorkelling – Great Keppel Island
Keppel Island is said to have some of the healthiest reefs around, so this is the perfect place to go snorkelling and spot colourful coral and plenty of marine life such as tropical fish, starfish, and turtles.  If you're lucky, you may even see stingrays and dolphins.
The most popular beaches for snorkelling Great Keppel Island are Shelving Beach, Monkey Point and Clam Bay.  Monkey Beach is easy to access by foot, but you'll need either GKI Watersports or Keppel Water Sports (KWS) to drop you off at the other two sites.  While the beaches close to the tourist area offer absolutely crystal clear water, there isn't much marine life apart from a few fish.
If you can, bring your own snorkelling gear, but you can hire some on the island if you don't have any.  There are two places on the island where you can hire a range of equipment or join various guided tours – GKI Watersports or Keppel Water Sports. GKI Watersports charges $20 per day for snorkel gear while Keppel Water Sports charges $15 per day (including mask, fins, snorkel and a portable flotation device). 
GKI Watersports also offer snorkelling tours which are $50 per adult and $40 per child for a 1.5 hour guided tour, including all your snorkel gear, boat ride and guide.
Check out the

Great Keppel Island Beaches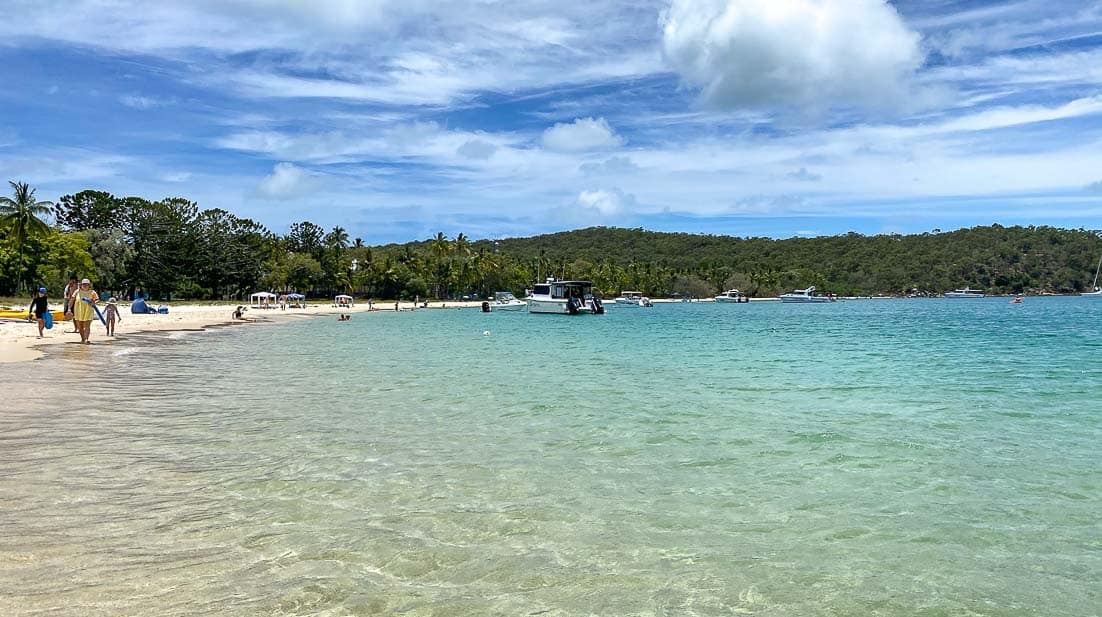 There are 17 stunning Great Keppel Island beaches to explore, with the main on the island being Fishermans Beach – this is where you will find the majority of the accommodation and Keppel Watersports.  To one side of Fishermans Beach is Putney Beach, which is also a very popular and accessible beach to check out.  Also between Fishermans Beach and Putney Beach is the Spit which is another popular spot for swimming.
Other beaches are accessible via one of the various Great Keppel Island walking tracks while some are only accessible by boat.  Both GKI Watersports and Keppel Watersports offer beach drops off and I highly recommend you do this at least once during your trip.  Beach drops off start at $60 for Leekes, Monkey and Shelving Beach, $80 for Long, Svendsensm Butterfish Bay and Secret Cove or $100 for Wreck and Red Beach.  This price is per return boat trip and is for up to 12 people.
Click here if you want to see our guide to the best beach shelters currently on the market.
Kayaking and 

Stand Up Paddle Boarding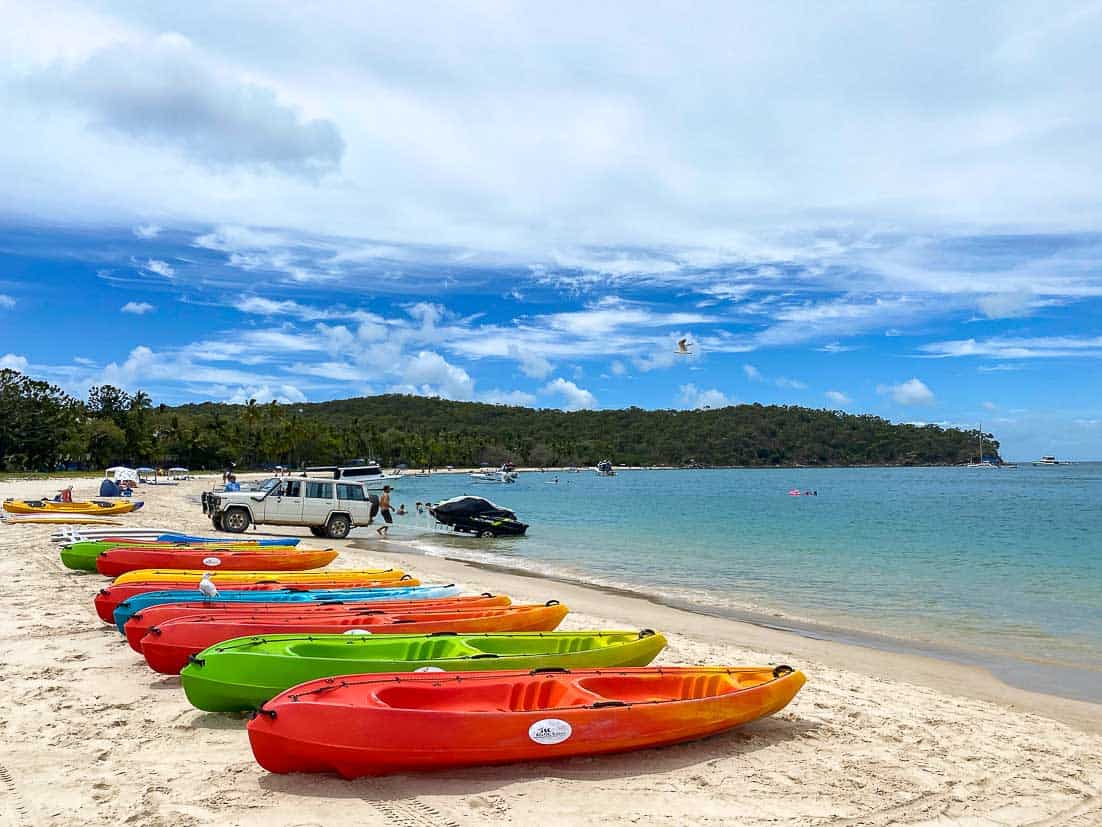 Great Keppel Island has the perfect conditions for kayaking and SUPing. If you want to save some cash – bring your own (we have this inflatable kayak which packs down so compactly and even comes with its own pump and oars – highly recommend!) otherwise you can hire one while you're over there.
GKI Watersports hire single and double kayaks out from $20 per hour and Keppel Watersports hire out kayaks from $20 for a single kayak and $25 for a double kayak for 1 hour.    Both places hire SUPs from $20 per hour.  Hire includes life jackets as well.
Jet Ski Tour
The Jet Ski tours go the full way around the entire 28kms of the island and are a great way to see its beauty.  Tours are run by Keppel Watersportsand are $280 for 2 people on one jet ski or $240 for 1 person on a jetski.  Tours go for around 1 hour.
Great Keppel Island Diving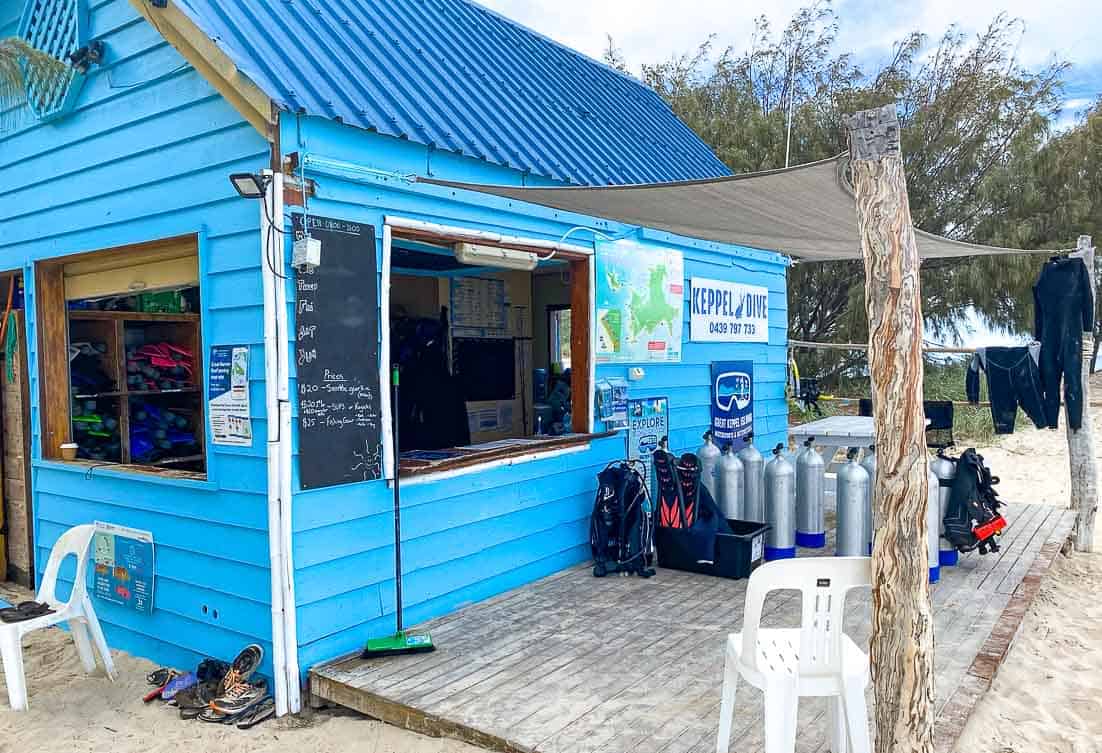 GKI Watersports is the only PADI dive resort on the island and offers both beginners and experienced divers an underwater experience in the waters off the island.
For Great Keppel Island diving, a beginner dive course is $140 per person, while for experienced divers you can do a single dive for $75 per person, double dive for $120 per person or beach dives for $100 per person.  All equipment is provided.
Great Keppel Island Walking Tracks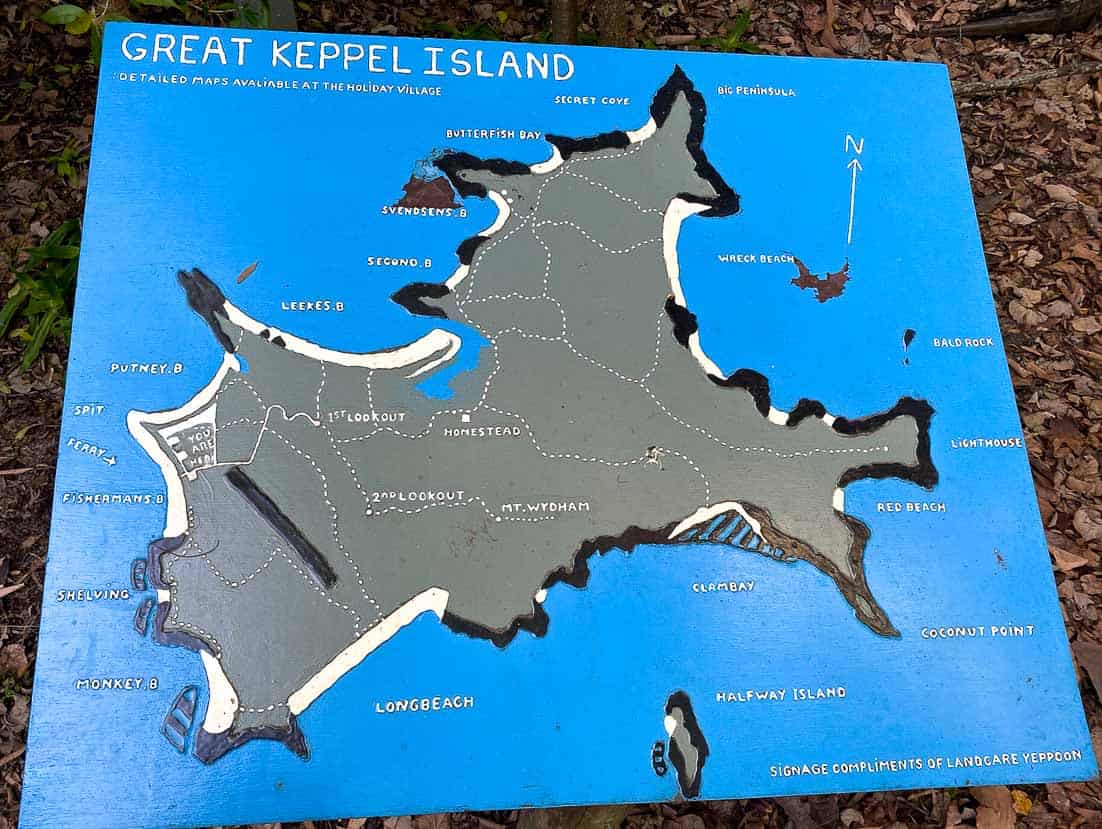 The bushwalking tracks are a great way to access the various beaches across the island and see its flora and fauna.  There are 6 different bushwalking tracks on Great Keppel Island ranging from fairly easy 1-2 hour walks to pretty steep all day walks.  However, you can do parts of these or combine different tracks to make your own walks as well.
Keep your eye peeled for goanna and lizards.  You'll no doubt see an array of birdlife.  Great Keppel Island is home to more than 90 species of birds including sea eagles, brahminy kites, ospreys, pied oystercatchers, curlews, honeyeaters, rainbow bee-eaters, friarbirds, kookaburras and rainbow lorikeets.
 Click here for more information about the different walks.  
Old Homestead
Now a heritage listed site, the Old Homestead was the old home of Lizzie Leek and her husband who lived here from 1922 to 1945 where they grazed sheep.  The house was built in 1922 and is now a lovely old building to check out while on the island.  
Aboriginal Midden
Aboriginal people have lived on the island for over 700 years and even more than 5000 years on the surrounding Keppel islands.  You can see evidence of the aboriginal inhabitants through the middens which can be found around the island.  Middens are small mounds of shells that build up over hundreds and hundreds of years due to numerous shellfish meals. 
The best preserved midden can be found at the western end of Long Beach.
Great Keppel Island Fishing Spots
There are plenty of great Great Keppel Island fishing spots to enjoy.  Just be sure to only fish in the fishing zones as there are some zones where fishing is not allowed.  Some of the best fishing spots are Fishermans, Putney and Leekes Beaches.
Apparently, Great Keppel Island is home to some of the best fishing on the east coast.  Expect to catch flathead, whiting, queenfish, trevally and coral trout here.
Bring your fishing gear with you, or you can hire your gear from GKI Watersports.  For $25 they'll hire you all the gear you need for 24 hours including rod, reel, wader bag, pliers, knife, spare tackle, fishing zone map and fish ruler.
Great Keppel Island Camping
There are just two places on Great Keppel Island that you can camp – Holiday Village (pictured above) or Svendsen's.  Holiday Village is the only place where you can bring your own camping gear – but both places also offer permanent tents.
Great Keppel Island Holiday Village
The Holiday Village is located on Fisherman Beach, which is the main tourist area of the island.  This resort offers laid back, basic style accommodation in a stunning setting on Great Keppel Island.  As well as holiday homes, cabins and rooms, the Holiday Village also offer a range of glamping tents and campsites.
Campsites are great for those that are happy to cart across their camping gear to the island.  There are just six sites available, starting at $25 per person per night.
If you like the idea of camping but not carting all your gear across, then you can glamp in one of the safari tents on site. These tents are suitable for two people in either a double bed or two singles and include linen, lights, fans and a small outdoor deck. Prices start at $120 per night per tent.
There are great facilities at Great Keppel Holiday Village, including a fully equipped communal kitchen and BBQ area which includes everything you could possibly need to cook your meals while on the island.
Click here if you want more information about the other accommodation options at Great Keppel Holiday Village.
Svendsen's Beach Eco Retreat
If you're wanting to camp on Great Keppel Island but prefer to be away from the crowds, then Svendsen's Beach Eco Retreat is a great option. Accessible only by a 6.5km walking track or boat, this small and secluded resort is far from all the other island guests and day-trippers.
First up though – this retreat is only available for families with children aged 14+, if your children are younger then this, you're going to need to stay at Great Keppel Holiday Village or camp at one of the other islands mentioned below.
Accommodation options at Svendsen's are fairly limited with a two bedroom house, studio cabin and then a gorgeous safari tent.  The safari tents are simple but lovely coming with solid timber beds, lamps, fans and an outdoor deck with chairs. Prices start at $120 per night.
There is no restaurant on site or anywhere nearby, so you will need to bring all your own food to Svendsen's.  However, you do get access to cooking facilities to prepare all your own meals.  You'll also have your own private beach hut down by the beach.
There is only ever a maxim number of 6 guests at any given time – with either a group in the house or another group in the other area.  There is also no staff on site, so you've pretty much got the place to yourself.
To reach the retreat, it is a 1.5 hour, 6 km walk from the ferry at Fisherman's Beach.  Another option is to arrange transfers with the retreat owners who will pick you up in their private boat for a cost of $15 per person each way.
You can book Svendsens via Airbnb – to check availability and current pricing click here.
How to Get to Great Keppel Island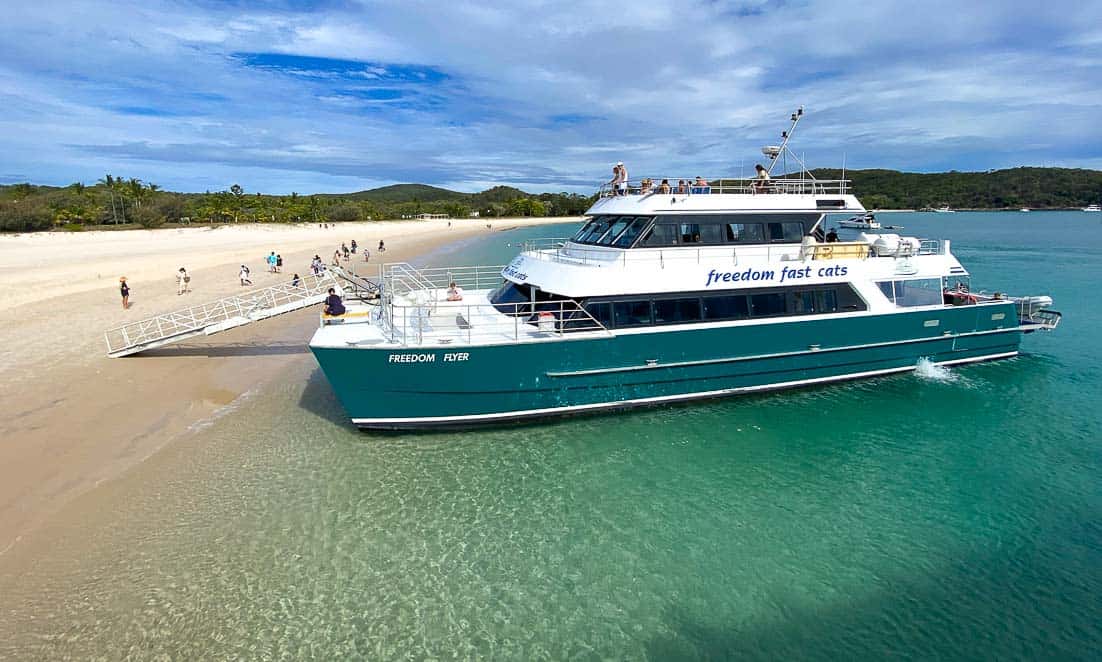 It's super easy to get to Great Keppel Island with two ferry companies offering multiple services each day from the mainland across to the island.  It only takes 30 minutes to get across and a return journey for a family only costs $135.
To find out exactly everything you need to know about the Keppel Island ferry times, where the boats depart, baggage allowances, where you can leave your car etc etc – click here for a detailed guide on catching the Great Keppel Island ferry.
___________________________________________________________________
Hopefully, you found this guide to things to do on Great Keppel Island helpful.  Don't forget you can find our guide to camping on Great Keppel Island here.  You might also be interested in our guides on things to do in Yeppoon here and Yeppoon Caravan Parks here