If you're travelling around Tropical North Queensland, it's well worth making a stop for a few days to explore the spectacular Undara Lava Tubes. In terms of Undara camping, the closest option is the Undara Experience. You can camp 30 minutes or so away at Mt Surprise, but given all the lava tours and bushwalking leaves from the Undara Experience, it really makes sense to stay on site.
If the Undara Experience has been on your radar, this is a great guide to check out as it will provide you with everything you need to know. As well as covering all the Undara campsite information, it also briefly covers the cabins and rooms and all the details on the properties facilities.
If you like to camp in Queensland, join our Queensland Camping FB group, where you can talk with other campers, ask for advice and share your own camping experiences.
This post may contain compensated links. Please refer to my disclaimer here for more information.
Where are the

Undra Lava Tubes

?
Located in the Gulf Savannah country, Undara Queensland is easily accessible by vehicles, whether that be car, 4WD or Motorhome. All the roads are sealed, although some stretches of road are narrow or single line and you will have to pull off the road if a Road Train is coming (these can be up to 50 metres long) – all in all, it is a relatively easy drive with kids.
Driving will take between 3.5 to 4 hours from Cairns to Undara Lava Tubes and from 4 to 5.5 hours from Townsville to Undara Lava Tubes.
Undara Camping

and Accommodation Options
In terms of Undara camping, your best bet is to stay at the Undara Experience resort. As well as camping, the resort provides a variety of cabins and other more unique accommodation options. All options are briefly covered below.
Camping and Caravan Sites
Whether you want to roll out a swag, pitch a tent or pop your camper top… Undara Lava Tubes camping has got you covered.
Powered Sites
The Undara caravan park has 58 powered van sites (drive-through and reverse-in). So settle in amongst the other travellers where you can rejuvenate in the peace and quiet, surrounded by natural bush. The amenities block is located close by at the Undara resort caravan park for anything your motorhome is not equipped with.
Powered sites start from $19.95 per adult and $10.50 per child.
Unpowered Sites
If camping near Undara Lava Tubes is what you're after, the Undara campsite has 15 drive-up sites to fit tents, small vehicles and camper trailers. There are also 25 unpowered van sites (drive-through and reverse-in). The Undara camping sites and unpowered van sites are beneath shady trees, so you'll enjoy the cool breeze as you spot abundant wildlife. And conveniently located close to the amenities block, meaning middle of the night toilet trips are as painless as possible.
Undara camping prices and unpowered van sites start from $17.50 per adult and $8.75 per child.
Swags Tent Village (Glamping)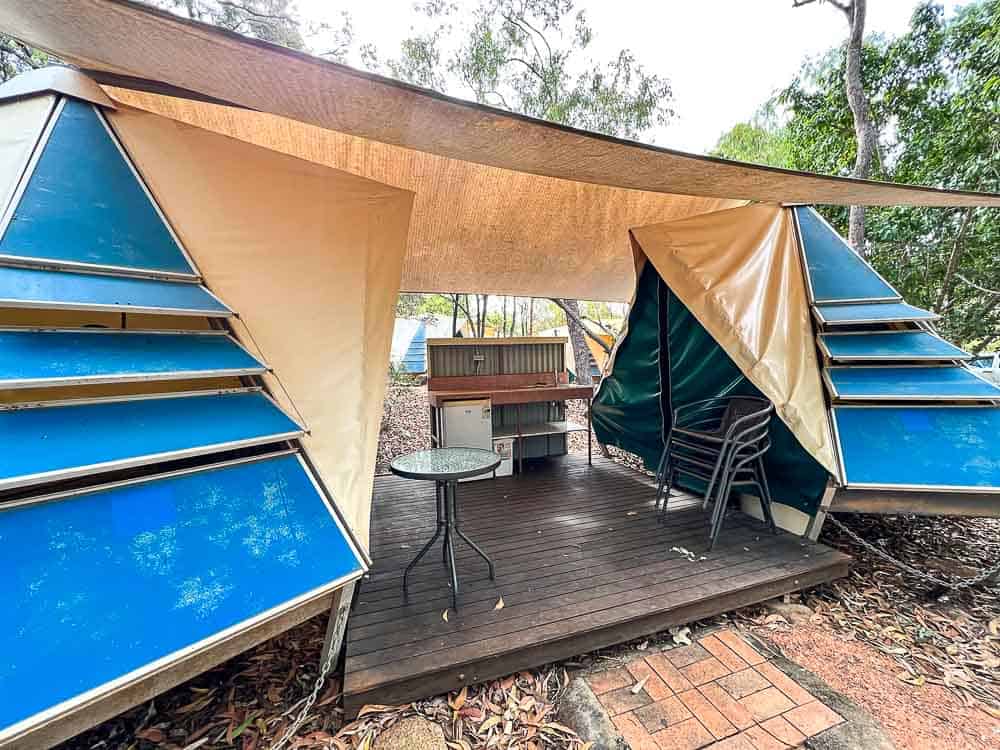 If you want a taste of Undara camping but don't want to rough it… then the Swags Tent Village could be what you're after. These permanent tents are set up with the comforts of home, such as beds (4 singles in the Quad Tent | double and two singles in the Family Tent), all linen, electric light, window screens, fridge, sink and powerpoint.
Cabins and Rooms
If you prefer to sleep indoors, with the comforts of home, then the following cabins and rooms accommodation near Undara Lava tubes, could be right for you.
Pioneer Huts
For premium accommodation, you can't go past the Pioneer Huts. Sleeping up to 3 people in King/Twin bedding and an additional sofa bed if required.
Amenities include air-conditioning, tea and coffee facilities and a small fridge. While the private verandah is the perfect setting to relax and enjoy an alfresco meal whilst you spot the wildlife amongst the Savannah Woodlands.
Railway Carriage
Want to sleep in award-winning accommodation? The Undara train accommodation has won both Australian and Queensland Tourism Awards for 'Unique Accommodation'!
These railway carriages aren't all squishy and graffiti-ridden like the carriages on your morning commute may be. No, these beautifully resorted carriages can accommodate up to 4 guests in Queen/Twin bedding and sofa bed. There is also tea & coffee making facilities and a small fridge for convenience. Shaded by tall trees and surrounded by native wildlife, this sure is a unique place to stay!
Homesteads
The Homesteads are the latest addition to the accommodation options at Undara. With King/Twin bedding and an additional sofa bed if required, tea & coffee making facilities and a small fridge.
The Homesteads got their name as they are dedicated to six of the original pioneering homesteads in the Undara region; the name is another way history is brought to life at the Undara National Park accommodation.
Amenities at Experience

Undara Caravan Park
Undara is quite isolated from other nearby townships, so it's a relief to tell you the range of facilities on offer are clean and well maintained for the comfort and convenience of all guests.
Camp Kitchen
Prepare meals at the undercover camp kitchen with hot and cold water, free gas barbeque, fridge, gas hot plates, picnic tables and chairs.
Fire Pits
Campfire pits and free gas BBQs are dotted throughout the grounds. If you prefer your own campfire on site, individual campfires are permitted on all sites, with firewood available for purchase.
Toilets and Showers
There are various amenities blocks throughout the caravan park and campgrounds, with hot and cold water, showers, toilets and washing machines.
Laundry Facilities
Clothes getting a little dusty? You're in luck with washing machines located in the amenity blocks along with hot and cold water. A cycle is $4 and goes for about 35 minutes. Please note there are no dryers on site.
Dump Point
Conveniently, there is a chemical toilet dump point onsite.
Bush Breakfast
A buffet breakfast is served each day out in the bush. From the BBQ, you'll be offered eggs, bacon, and baked beans, while you'll find cereal and juice in the middle of the camp. From the campfire, you'll be served billy tea or freshly brewed coffee and you'll even need to cook your toast over the coals of the campfire… how Aussie is that?!
The bush breakfast is $26.50 per adult and $13.50 per child. Please note that this is the only breakfast option at Undara. So if you're not keen on having a buffet breakfast each morning, bring some of your own supplies to cook on one of the property BBQs.
Fettler's Iron Pot Bistro
The Fettler's Iron Pot Bistro is a licensed bistro offering authentic country cooking for lunch and dinner. With items on the menu including slow-cooked corned beef, locally grown steak cooked the way the grazier cooks it, Georgetown sausages the size of a baby's arm… you know you're getting authentic country cooking and outback hospitality.
Lunch and dinner menus are varied, with meals at prices you'd expect from most bars. Overall pricing is quite good, considering you're in the middle of nowhere. I can highly recommend the Braised Beef Ribs!
Saloons Car Bar
For those after a biscuit, cuppa or something a bit stronger, head on to the 'Saloon Car Bar', which is up on the mezzanine level overlooking the bistro. Here you'll find freshly ground espresso coffee and a range of Australian and imported beers, wines and spirits. The bar is open for lunch and dinner.
Kiosk
Feeling peckish? In need of a snack? The small onsite shop has a range of basic food suppliers and snacks, including cold drinks. It's open seven days a week.
Activities and Facilities at

Undara Experience
There are plenty of things to do at and around the resort – see below for more information.
Undara Tours
The Undara Lava Tubes Queensland are among some of the longest of their kind in the world! These fascinating tubes were created when the Undara Volcano erupted over 190,000 years ago. The flowing lava lasted a long time, which allowed the outer edge to cool, whilst the interior kept flowing – which is how the tubes were formed.
The only way to explore these lava tubes is via one of the tours offered by Undrara Experience. We did all of the tours offered and highly recommend them all. Each one offers something different, which we've briefly covered below.
Archway Explorer
To give you a taste of the Lava Tubes Undara offers, the Archway Explorer is a great introduction. This 2-hour tour by your experienced Savannah guide takes in the Lava Tubes along with other interesting environmental, geological and historical features of the region. The entire walk is along boardwalks and stairs with handrails, so pretty much suitable for all kinds of fitness levels. A young three year old girl on our tour did it all with ease.
Tours depart 8 am, 10.30 am, 1 pm daily (between April – September) | $63 Adults | $30 Kids
Wind Tunnel Explorer
The Wind Tunnel Explorer tour is a must if you want to experience even more lava tubes and don't mind getting off the beaten track. On this tour, you will be visiting up to 3 sections of the Lava Tube, where you will be scrambling over rocks with no boardwalks and limited handrails.
While you'll need a moderate fitness level, don't overthink it – this tour is very doable for most fitness levels and the kids would be able to do it with ease – although it's not recommended for kids under 5. However, I'd probably give it a miss for anyone with any mobility issues as you do need to be able to tackle uneven surfaces – but nothing too major.
This tour also goes for 2 hours and takes you further into some of the caves where you'll see microbats, some cave art and, if you're lucky (or unlucky, depending on how you think of it), some animal skeletons.
Tours depart 8 am and 10.30 am (between April – September) | $63 Adults | $30 Kids
Wildlife at Sunset
There are so many parts to this tour – from the wildlife, to the wine, to the bats… let's start from the start. Enjoy a big sky sunset as you experience iconic Australian wildlife such as kangaroos, wallabies, cockatoos, lorikeets and other wild creatures in their natural environment. You will be sipping on sparkling wine (kids can have the juice) and indulging in cheese as your Savannah Guide unlocks the secrets of this timeless land.
After a spectacular sunset, you'll head over to the entrance of a Lava Tube, where your eyes will bulge at the thousands of microbats as they emerge from the darkness to eat, attracting pythons and brown tree snakes that hang from the trees and strike out, trying to catch the bats… this is a nature experience the whole family will never forget! The tiny microbats are just amazing; I had no idea bats this tiny even existed! We even had to privilege of seeing a snake waiting patiently for a feed.
It is pitch black when entering the cave, so this is not recommended for any children who fear the dark. However, the boardwalk has a handrail, as do the stairs and your guide will have a torch. Its also recommended to bring your own touch with you.
Tours depart between 5 pm to 6 pm depending on the sunset and last for 2 hours | $63 Adults | $30 Kids
Swimming Pool
The pool is in harmony with the outback natural surrounds…being a billabong style with a waterfall cascading feature. This freshwater pool allows you to cool off as you take a dip and then relax on the chairs and lounges.
Bushwalking and Bike Tracks
Walking or biking the tracks at Undara will let you experience nature in its purest form, as well as stunning vistas over the volcanic landscape. There are nine tracks at Undara, ranging from 1.5km to 12km, with the majority graded easy.
Undara Camping – Our Verdict
If visiting the Lava Tubes is high on your list of 'must sees', we highly recommend staying at the Undara Experience. Being the closest accommodation option to the entrance of the cave, you will have maximum time to take in the awe inspiring Tubes and wondrous Savannah.
When not touring the Lava Tubes, the facilities on offer at Undara are great. With nowhere else nearby to eat or grab something from the shops, Undara has it all covered. The outback hospitality is also at its Aussie best! And the abundance of native wildlife so close to our front door was amazing to see first hand.
______________________________________________________________________________
Hopefully you found this guide to the camping at Undara helpful. Check out our guide on visiting Undara here or read our guide on camping at Cobbold Gorge which is just a 3 hour drive west of Undara.